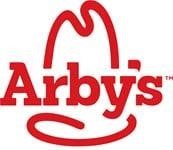 Nutrition facts and Weight Watchers points for Orange Juice from Arby's.
Arby's Orange Juice

Calories


There are 140 calories in Orange Juice.

Orange Juice

Nutrition Facts

Serving Size
309g

Calories

140
Calories From Fat
Amount Per Serving
% Daily Value*

Total Fat

0g
0%
Saturated Fat
0.0g
0%
Trans Fat
0.0g
 

Cholesterol

0mg
0%

Sodium

0mg
0%

Total Carbohydrates

33g
11%
Dietary Fiber
1g
4%
Sugars
26g
 

Protein

2g
4%

Vitamin A

 
6%

Vitamin C

 
200%

Calcium

 
2%

Iron

 
0%
*All percent daily value figures are based on a 2,000 calorie diet.
Nutritional information source: Arby's
Arby's Orange Juice

Allergens

Does Not Contain* egg fish gluten milk MSG peanuts shellfish soy tree nuts wheatUnknown glutamates mustard nitrates seeds sesame sulfites

Allergy Information: a Arby's Orange Juice does not contain egg, fish, gluten, milk, MSG, peanuts, shellfish, soy, tree nuts or wheat.*

* Please keep in mind that most fast food restaurants cannot guarantee that any product is free of allergens as they use shared equipment for prepping foods.
Arby's Orange Juice

Ingredients

Pasteurized Orange Juice.




Does Arby's have orange juice?
Arby's Orange Juice Calories
There are 140 calories in a Orange Juice from Arby's.
What kind of drinks does Arby's have?
Arby's drink fountains now offer Coca-Cola, Coke Zero Sugar, Diet Coke, Sprite, Minute Maid Light, Mello Yello, Barq's Root Beer, Hi-C Flashin' Fruit Punch, Fanta Orange and Powerade Mountain Berry Blast.
What kind of orange juice does Sonic have?
Sonic Minute Maid Orange Juices contain between 130-200 calories, depending on your choice of sizes. Choose from the sizes below to see the full nutrition facts, ingredients and allergen information.
Does Arby's have Mountain Dew?
Arby's now offers Mountain Dew Game Fuel Citrus Cherry soda on tap from their soda fountain for a limited time at select locations.
What is Arby's au jus made of?
Au Jus: Water, Maltodextrin, Modified Corn Starch, Hydrolyzed Plant Proteins (corn, soy, and wheat), Sugar, Salt, Palm Oil, Beef Fat (TBHQ, and citric acid added to protect flavor), Dried Beef Stock, Autolyzed Yeast Extract, Onion Powder, Contains 2% or less of the following: Soybean Oil, Caramel Color, Natural …
What is Arby's sauce made of?
I have more good news for you – Arby's Sauce is really easy to make. It's just a matter of stirring together a few ingredients and letting them simmer until they've become one entity. So what's in this stuff? It's ketchup, brown sugar, apple cider vinegar, a bit of tabasco, and some onion powder and garlic powder.
Does Sonic still have orange juice?
Drive in to SONIC and have a good morning! Available in three great flavors: Strawberry, Strawberry-Banana, and Tropical(orange juice, coconut, and pineapple) With Non-Fat Yogurt & Real Fruit. Enriched with Calcium & Exceeds 100% Daily Recommended Allowance of Vitamins A & C.
What is a fancy sprite from Sonic?
I'm brought back to those days hearing all about Sonic's secret drink option called, Purple Sprite. It's a sugary-sweet mix of Sprite, Powerade, lemonade and cranberry juice and totally refreshing.
Does Sonic sell apple juice?
Minute Maid® 100% Apple Juice Box – Order Online | Sonic Drive-In.
Is Arby's beef healthy?
The fast-food-sandwich market is not an easy one to conquer, but it's reasonable to say Arby's has the whole "roast beef" quadrant in the bag. And it's a good niche to cover–the FDA recognizes roast beef as an extra-lean cut, which means it's pretty healthy as far as meat goes.
What comes on Arby's French Dip?
Arby's French Dip, which consists of roast beef and Swiss cheese sandwiched between two slabs of ciabatta bread with a sauce container to dip the whole menu item in, appears to enjoy a good amount of popularity with the fan base.
What is in Arby's Reuben sandwich?
Marbled rye bread filled with freshly sliced corned beef, melty Swiss Cheese, tangy sauerkraut and creamy Thousand Island dressing. This is a Reuben sandwich inspired by the New York standard.