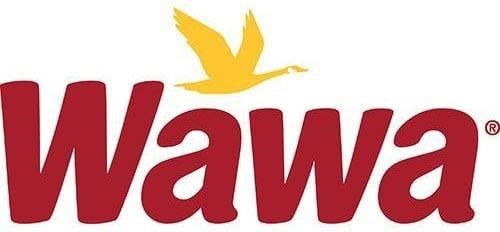 Nutrition facts and Weight Watchers points for Peach Lemonade Tea from Wawa.
Wawa Peach Lemonade Tea

Calories


There are 200 calories in Peach Lemonade Tea.

Peach Lemonade Tea

Nutrition Facts

Serving Size
1 Serving

Calories

200
Calories From Fat
Amount Per Serving
% Daily Value*

Total Fat

0g
0%
Saturated Fat
0g
0%
Trans Fat
0g
 

Cholesterol

0mg
0%

Sodium

20mg
1%

Total Carbohydrates

49g
16%
Dietary Fiber
0g
0%
Sugars
48g
 

Protein

0g
0%

Vitamin A

 
0%

Vitamin C

 
2%

Calcium

 
2%

Iron

 
0%
*All percent daily value figures are based on a 2,000 calorie diet.
Nutritional information source: Wawa
Wawa Peach Lemonade Tea

Allergens

Does Not Contain* egg fish milk peanuts shellfish soy tree nuts wheatUnknown glutamates gluten MSG mustard nitrates seeds sesame sulfites

Allergy Information: a Wawa Peach Lemonade Tea does not contain egg, fish, milk, peanuts, shellfish, soy, tree nuts or wheat.*

* Please keep in mind that most fast food restaurants cannot guarantee that any product is free of allergens as they use shared equipment for prepping foods.
Wawa Peach Lemonade Tea

Ingredients

FILTERED WATER, SUGAR, TEA, PEAR JUICE CONCENTRATE, LEMON JUICE CONCENTRATE, NATURAL FLAVORS, CITRIC ACID, CARAMEL COLOR, POTASSIUM SORBATE (PRESERVATIVE), GUM ACACIA, SODIUM CITRATE, GLYCEROL ESTER OF WOOD ROSIN.




What kind of tea does Wawa have?
The staples are there – Earl Grey, Regular Black, and Lemon. Along with the aforementioned Chamomile, you might see Decaf, Ginger Peach, among some other charming flavors. I am a big fan of the Lemon. The flavors are parallel to their iced teas.
Does Wawa have Arizona Iced Tea?
Teas & Fruit Drinks
From apple juice to green tea, Wawa has a large selection of bottled teas and fruit drink varieties to satisfy your thirst. Varieties include: Tropicana. Arizona.
Does Wawa have brewed tea?
Brighten your day with a Wawa Refresher! Enjoy a refreshing boost of vitamin C from cold brewed green tea blended with fruit juice, fruit puree, fruit pieces, and ice. Available in tropical flavors for a sweet escape.
Does Wawa have unsweetened tea?
from Wawa. * Percent Daily Values are based on a 2,000 calorie diet.
Additional Serving Size Recommendations.
| Vitamin A 0% | • | Vitamin C 0% |
| --- | --- | --- |
| Calcium 2% | • | Iron 0% |
What is in Wawa chai tea?
24 oz Chai Tea Frozen Latte: water, Chai Tea (WATER, ORGANIC CANE SUGAR, ORGANIC BLACK TEA, ORGANIC SPICE EXTRACTS, CITRIC ACID, ORGANIC HONEY, NATURAL FLAVOR), VANILLA FROZEN CREAM MIX (MILK, CREAM, SUCROSE, CONDENSED SKIM MILK, CORN SYRUP, WHEY SOLIDS, ARTIFICIAL VANILLA FLAVOR, MONO- AND DIGLYCERIDES, CELLULOSE GUM, …
What is a Wawa refresher?
Wawa Refreshers, which comes in six varieties, are made with fruit juice, fruit puree and delicate Cold Brewed Green Tea, combined with fruit pieces and served over ice. By CSD Staff | April 7, 2021. Wawa announced the launch of Wawa Refreshers, now available in all 920 stores chainwide.
Does Wawa sell their tea bags?
Our hot tea box comes with hot water, 10 cups and an assortment of your favorite Wawa tea bag varieties, including: (4) regular black tea bags, (2) lemon herbal tea bags, (2) ginger peach tea bags, (2) premium green tea bags.
Is Wawa water free?
In a shocking move (predicted by UTB over a year ago), the popular chain Wawa will begin charging for cups. Customers who used to take advantage of the offer of free water from the convenience store, will now need to buy a drink at the counter in order to fill up and stay hydrated.