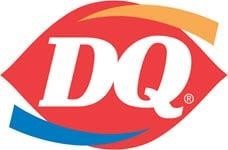 Nutrition facts and Weight Watchers points for Chocolate Dilly Bar from Dairy Queen.
Dairy Queen Chocolate Dilly Bar

Calories


There are 220 calories in Chocolate Dilly Bar.

Chocolate Dilly Bar

Nutrition Facts

Serving Size
1 dilly bar

Calories

220
Calories From Fat
110
Amount Per Serving
% Daily Value*

Total Fat

12g
18%
Saturated Fat
10g
50%
Trans Fat
0g
 

Cholesterol

15mg
5%

Sodium

55mg
2%

Total Carbohydrates

25g
8%
Dietary Fiber
0g
0%
Sugars
21g
 

Protein

3g
6%

Vitamin A

 
0%

Vitamin C

 
0%

Calcium

 
10%

Iron

 
4%
*All percent daily value figures are based on a 2,000 calorie diet.
Nutritional information source: Dairy Queen
Dairy Queen Chocolate Dilly Bar

Allergens

Contains milk soyDoes Not Contain* egg fish gluten peanuts shellfish tree nuts wheatUnknown glutamates MSG mustard nitrates seeds sesame sulfites

Allergy Information: a Dairy Queen Chocolate Dilly Bar contains milk and soy. a Dairy Queen Chocolate Dilly Bar does not contain egg, fish, gluten, peanuts, shellfish, tree nuts or wheat.*

* Please keep in mind that most fast food restaurants cannot guarantee that any product is free of allergens as they use shared equipment for prepping foods.
Dairy Queen Chocolate Dilly Bar

Ingredients

Chocolate Dilly Bar Reduced Fat Ice Cream (Milk Fat and Nonfat Milk, Sugar, Whey, Corn Syrup, Carob Bean Gum, Guar Gum, Carrageenan, Mono & Diglycerides, Artificial Flavor, Caramel Color, Vitamin A Palmitate), Coating (Coconut Oil, Sugar, Cocoa Processed with Alkali, Corn Starch, Soy Lecithin (Emulsifier), Salt, Natural Flavor).




What is a Dairy Queen Dilly Bar?
Dilly® Bar – Chocolate
Soft serve with a delicious chocolatey coating. *Available at participating DQ® locations..
What are Dairy Queen Dilly Bars made out of?
DQ Non-Dairy Dilly Bar Ingredients: Frozen dessert (water, sugar, corn syrup, maltodextrin, coconut oil, coconut cream, contains 2% or less of vanilla extract, xanthan gum, guar gum, carrageenan, carob bean gum, mono & diglycerides); Coating (coconut oil, sugar, cocoa processed with alkali, corn starch, soy lecithin, …
What kind of chocolate is on a Dilly Bar?
You can use dark chocolate or semi-sweet chocolate chips, but anything other than dark or semi-sweet will result in a dessert that she thinks is a little too sweet. Also, be sure to have some popsicle sticks handy, as well as a baking dish and parchment paper to lay the dilly bars on.
Why do they call them Dilly Bars?
A couple of brothers who supplied ice cream mix stopped by, and somebody poured a swirl of ice cream on paper, stuck a stick in it and dipped it into chocolate. "Somebody said that's really a dilly," and the name stuck, Phyllis said in a 2010 oral history interview for StoryCorps.
How much is a box of DQ Dilly bars?
$15.99. Experience the great combination of DQ soft serve dipped in a luscious chocolate flavored coating. Dilly Bars come in a box of 12.
Are Dilly bars healthy?
The No Sugar Added Dilly Bar has 200 calories, 12g fat, 9g saturated fat, 60mg sodium, 26g carbohydrate, 6g sugar, and 3g protein. This low-calories sweet treat is potentially a better option for those avoiding certain allergens.
Are all Dilly bars No Sugar Added?
While the regular Dilly Bars are available in Cherry, Chocolate, or Butterscotch flavors, the No Sugar-Added Dilly Bars only come in Chocolate Dipped with Vanilla ice cream, but that's the best possible combination out there, so who cares?!
How much sugar is in a Dilly Bar?
Dairy Queen Dilly Bar Nutrition Facts
Serving Size
1 bar
Sodium
55mg
2%
Total Carbohydrates
21g
7%
Dietary Fiber
0g
0%
Sugars
18g