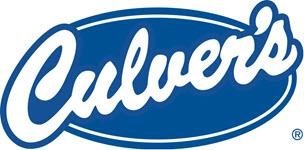 Nutrition facts and Weight Watchers points for Harvest Veggie Burger from Culvers.
Culvers Harvest Veggie Burger

Calories


There are 590 calories in Harvest Veggie Burger.

Harvest Veggie Burger

Nutrition Facts

Serving Size
1 burger

Calories

590
Calories From Fat
225
Amount Per Serving
% Daily Value*

Total Fat

25g
38%
Saturated Fat
10g
50%
Trans Fat
0g
 

Cholesterol

60mg
20%

Sodium

1075mg
45%

Total Carbohydrates

72g
24%
Dietary Fiber
6g
24%
Sugars
9g
 

Protein

19g
38%

Vitamin A

 
?

Vitamin C

 
?

Calcium

 
?

Iron

 
?
*All percent daily value figures are based on a 2,000 calorie diet.
Nutritional information source: Culvers
Culvers Harvest Veggie Burger

Allergens

Contains egg gluten milk soy wheatDoes Not Contain* fish peanuts shellfish tree nutsUnknown glutamates MSG mustard nitrates seeds sesame sulfites

Allergy Information: a Culvers Harvest Veggie Burger contains egg, gluten, milk, soy and wheat. a Culvers Harvest Veggie Burger does not contain fish, peanuts, shellfish or tree nuts.*

* Please keep in mind that most fast food restaurants cannot guarantee that any product is free of allergens as they use shared equipment for prepping foods.
Culvers Harvest Veggie Burger

Ingredients

Red Onion Ring : Red Onion

Mayonnaise : Soybean Oil, Egg Yolks, Water, High Fructose Corn Syrup, Distilled Vinegar, Contains Less Than 2% Of Salt, Spices, Lemon Juice Concentrate, Calcium Disodium EDTA Added To Protect Flavor. CONTAINS: EGG

Dill Pickle : Cucumbers, Water, Vinegar, Salt, Contains Less Than 2% Of Alum, Calcium Chloride, Sodium Benzoate (preservative), Polysorbate 80, Natural Flavors, Yellow 5.

Tomato Slice : Tomato

Shredded Lettuce : Iceberg Lettuce

Harvest Veggie Burger : Pasteurized Milk, Bleached Flour (Wheat Flour, Wheat Starch, Benzoyl Peroxide, Tricalcium Phosphate), Barley, Wheatberries, Roasted Corn, Portabella Mushrooms, Modified Corn Starch, Roasted Red Bell Peppers, Chick Peas, Spinach, Roasted Onions, Garlic, Roasted Green Bell Peppers, Contains less than 2% of Ammonium Bicarbonate, Cheese Culture, Dextrose, Eggs, Enzymes, Onion Powder, Salt, Sodium Phosphate, Soybean Oil, Spice, Sugar, Water, Xanthan Gum, Yeast, Yeast Extract. CONTAINS WHEAT, GLUTEN, MILK, EGGS

Lightly Toasted Buttered Bun : Enriched Wheat Flour [Flour, Malted Barley Flour, Reduced Iron, Niacin, Thiamin Mononitrate (Vit B1), Riboflavin (Vit B2), Folic Acid], Water, Sugar or High Fructose Corn Syrup, Yeast, Wheat Gluten, Potato Flour, Soybean Oil, Vinegar, Salt, Butter (cream, salt), Dough Conditioners (contains one of more of the following: Sodium Stearoyl Lactylate, Calcium Stearoyl Lactylate, Monoglyceride And/Or Diglycerides, Calcium Peroxide, Calcium Iodate, DATEM, Ethoxylated Mono- And Diglycerides, Enzymes), Caramel Color, Monocalcium Phosphate, Calcium Sulfate, Potassium Iodate, Enzymes, Ascorbic Acid, Citric Acid, Soy Lecithin, Calcium Propionate (Preservative). CONTAINS WHEAT, SOY, MILK
Is the harvest veggie burger vegetarian?
The Harvest Veggie Burger from Culver's is made with a roasted chickpea, mushroom, pepper and cheese patty. While it is vegetarian, the inclusion of real Wisconsin cheese in the patty makes it non-vegan friendly.
Why did Culvers change their veggie burger?
Anyway, Quinn Adkins, Culver's director of menu development, didn't want to give customers the same new meat analog patties that other burger chains were offering. "We have a longstanding commitment to our farmers and producers, and we wanted to offer guests the 'Culver's experience' in a veggie burger," he says.
How many calories does the Culvers veggie burger have?
Culvers Veggie Burger Calories
There are 460 calories in a Veggie Burger from Culvers.
What does a garden burger taste like?
They do taste beany, earthy and sometimes a little spicy. Veggie burgers made to mimic beef burgers, which are usually made from soy or wheat gluten, often have a savory, umami flavor and may even be smoky and a touch salty.
What are Culver's veggie burgers made of?
Fire-roasted chickpeas, mushrooms, peppers, corn and real Wisconsin cheese come together to create this one-of-a-kind patty. Grilled and topped with our signature lightly buttered, toasted bun, it's one hearty burger to say the least.
Does Wendy's have veggie burgers?
Our meat-free burger is a custom blend of vegetables, grains and spices, topped with emmental cheese, juicy tomatoes, crisp lettuce and garlic mayonnaise – all in a toasted premium bun. See if it isnt the best veggie sandwich youve ever had.
How many carbs are in Culver's french fries?
Nutrition Facts
Calories 360
(1506 kJ)
Total Carbohydrate
53 g
18%
Dietary Fiber
4 g
16%
Sugars
0 g
Protein
6 g
How many calories are in a small fry from Culvers?
Nutrition
| | CALORIES | TRANS FAT (G) |
| --- | --- | --- |
| Crinkle Cut Fries, Small | | |
| Total: | 240 | 0 |