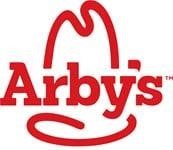 Nutrition facts and Weight Watchers points for Buffalo Dipping Sauce from Arby's.
Arby's Buffalo Dipping Sauce

Calories


There are 10 calories in Buffalo Dipping Sauce.

Buffalo Dipping Sauce

Nutrition Facts

Serving Size
28g

Calories

10
Calories From Fat
10
Amount Per Serving
% Daily Value*

Total Fat

1g
2%
Saturated Fat
0.0g
0%
Trans Fat
0.0g
 

Cholesterol

0mg
0%

Sodium

720mg
30%

Total Carbohydrates

2g
1%
Dietary Fiber
0g
0%
Sugars
0g
 

Protein

0g
0%

Vitamin A

 
?

Vitamin C

 
?

Calcium

 
?

Iron

 
?
*All percent daily value figures are based on a 2,000 calorie diet.
Nutritional information source: Arby's
Arby's Buffalo Dipping Sauce

Allergens

Does Not Contain* egg fish gluten milk peanuts shellfish soy tree nuts wheatUnknown glutamates MSG mustard nitrates seeds sesame sulfites

Allergy Information: a Arby's Buffalo Dipping Sauce does not contain egg, fish, gluten, milk, peanuts, shellfish, soy, tree nuts or wheat.*

* Please keep in mind that most fast food restaurants cannot guarantee that any product is free of allergens as they use shared equipment for prepping foods.
Arby's Buffalo Dipping Sauce

Ingredients

Buffalo Dipping Sauce: Cayenne Red Pepper, Water, Distilled Vinegar, Salt, Soybean Oil, Natural Flavor (including cheese [milk cultures, salt, enzymes]), Sweet Cream (dehydrated), Garlic, Xanthan Gum, Calcium Disodium EDTA (to protect flavor). CONTAINS: MILK.




What type of dipping sauce does arbys have?
Arby's have four dipping sauces currently available on their menu. These are Tangy Barbeque, Buffalo, Honey Mustard, and Ranch).
How many carbs are in Arby's Buffalo sauce?
1g
Buffalo Sauce (1 serving) contains 1g total carbs, 1g net carbs, 0g fat, 0g protein, and 10 calories.
What does Arby's sauce taste like?
What does Arby's sauce taste like? Arby's sauce is deep red in color and unique in flavor, with its peppery barbecue-like appeal. We have found a great blend of ingredients that comes very close to this favorite sandwich condiment so you can replicate it at home!
Do they sell Arby's sauce?
If you've never tried them, Horsey Sauce is Arby's horseradish-mayo blend and Arby's Sauce is the chain's signature barbecue sauce.
Is red ranch the same as Arby's sauce?
Not really, red ranch sauce is one of the sauces used in Arby's restaurants. They also have got various sauce types, like a barbeque sauce, for instance. So, speaking about the Red Ranch, which is a sweet tomato sauce with some special ingredients, you had better not name it Arby's as it might cause some confusion.
What is Arby's sauce made of?
I have more good news for you – Arby's Sauce is really easy to make. It's just a matter of stirring together a few ingredients and letting them simmer until they've become one entity. So what's in this stuff? It's ketchup, brown sugar, apple cider vinegar, a bit of tabasco, and some onion powder and garlic powder.
What is Arby's Bronco berry sauce made of?
Arby's Bronco Berry Sauce Ingredients
High Fructose Corn Syrup, Water, Bell Pepper, Distilled Vinegar, Modified Corn Starch, Jalapeno Pepper, Vegetable Juice Concentrate (color), Potassium Sorbate and Sodium Benzoate (preservatives), Onion (dehydrated), Salt, Spice, Xanthan Gum, Citric Acid, Acetic Acid.
What is Arby's French Dip?
The French Dip Max consists of 7 oz of roast beef on a sub-roll with two slices of swiss cheese. That's twice the meat for twice the fun! This sandwich should be ordered by the really hungry. The French Dip Max is also served, of course, with their french dip sauce.