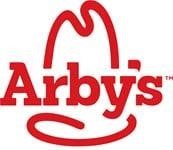 Nutrition facts and Weight Watchers points for Bacon & Cheese Croissant from Arby's.
Arby's Bacon & Cheese Croissant

Calories


There are 330 calories in Bacon & Cheese Croissant.

Bacon & Cheese Croissant

Nutrition Facts

Serving Size
1 croissant

Calories

330
Calories From Fat
170
Amount Per Serving
% Daily Value*

Total Fat

19g
29%
Saturated Fat
10.0g
50%
Trans Fat
0.0g
 

Cholesterol

50mg
17%

Sodium

670mg
28%

Total Carbohydrates

27g
9%
Dietary Fiber
1g
4%
Sugars
3g
 

Protein

13g
26%

Vitamin A

 
?

Vitamin C

 
?

Calcium

 
?

Iron

 
?
*All percent daily value figures are based on a 2,000 calorie diet.
Nutritional information source: Arby's
Arby's Bacon & Cheese Croissant

Allergens

Contains egg gluten milk soy wheatDoes Not Contain* fish peanuts shellfish tree nutsUnknown glutamates MSG mustard nitrates seeds sesame sulfites

Allergy Information: a Arby's Bacon & Cheese Croissant contains egg, gluten, milk, soy and wheat. a Arby's Bacon & Cheese Croissant does not contain fish, peanuts, shellfish or tree nuts.*

* Please keep in mind that most fast food restaurants cannot guarantee that any product is free of allergens as they use shared equipment for prepping foods.
Arby's Bacon & Cheese Croissant

Ingredients

Breakfast Bacon: Pork, Water, Salt, Sugar, Smoke Flavoring, Sodium Phosphate, Sodium Erythorbate, Sodium Nitrite

American Cheese (Processed Slice): Cultured Milk, Water, Cream, Sodium Citrate, Salt, Lactic Acid, Sorbic Acid (preservative), Artificial Color, Enzymes, Soy Lecithin. CONTAINS: MILK, SOY

Croissant: Enriched Flour (wheat flour, barley, malt, niacin, iron, thiamine mononitrate, riboflavin, folic acid), Water, Unsalted Butter (cream, lactic acid), Sugar, Contains 2% Or Less Of the following: Yeast, Egg Whites, High Fructose Corn Syrup, Eggs, Salt, Natural And Artificial Flavor, Calcium Propionate (preservative), Dough Conditioner (sodium stearoyl lactylate, L-cysteine, ascorbic acid, azodicarbonamide, enzymes), Soy Flour. CONTAINS: EGG, MILK, SOY, WHEAT.




Is a bacon egg and cheese croissant healthy?
Ditch this sandwich and instead, try the Bacon, Egg & Swiss Croissant—it contains 410 calories, 11 grams saturated fat, and 890 milligrams of sodium. It's not significantly healthier for you by any means, but it's definitely an improvement.
Does Arby's have ham and cheese croissant?
Arby's Ham, Egg & Cheese Croissant Calories
There are 420 calories in a Ham, Egg & Cheese Croissant from Arby's. Most of those calories come from fat (51%).
What is on a bacon egg and cheese croissant from Wendy's?
A fresh-cracked free range egg and Applewood smoked bacon covered in creamy cheese sauce on a flaky croissant bun.
How many calories in an Arby's ham and cheese croissant?
There are 281 calories in 1 croissant (120 g) of Arby's Ham & Cheese Croissant. * The % Daily Value (DV) tells you how much a nutrient in a serving of food contributes to a daily diet. 2,000 calories a day is used for general nutrition advice.
What is the healthiest fast food breakfast?
Healthiest fast-food breakfasts: 10 good picks
Scrambled egg whites, chicken sausage, and fruit (Denny's) …
Fruit & maple oatmeal (McDonald's) …
Simple & fit veggie omelette (IHOP) …
Western egg white & cheese muffin melt (Subway) …
Egg white turkey sausage wake-up wrap (Dunkin' Donuts) …
Breakfast power sandwich (Panera Bread)
Which breakfast sandwich is the healthiest?
Healthiest and unhealthiest breakfast sandwiches
Starbucks. Healthiest: Spinach and Feta Wrap. Calories: 290. …
McDonald's. Healthiest: Egg White Delight. Calories: 250. …
Au Bon Pain. Healthiest: Egg Whites and Cheddar Breakfast Sandwich. Calories: 250. …
Arby's. Healthiest: Ham and Swiss Croissant. Calories: 270. …
Burger King.
What is a breakfast baconator?
Grilled sausage, American cheese, Applewood smoked bacon, a fresh-cracked free range egg, (deep breath) more cheese and more bacon all covered in our signature cheese sauce. Don't just break your fast.
Are Wendy's breakfast eggs real?
Does Wendy's use real eggs? Absolutely. Every breakfast sandwich* that has an egg on it uses freshly-cracked, grade A, honest-to-goodness, from-an-actual-chicken egg. *The Sausage & Egg Burrito is not made to order with a freshly-cracked egg.