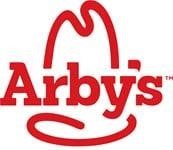 Nutrition facts and Weight Watchers points for Sauce from Arby's.
Arby's Sauce

Calories


There are 15 calories in Sauce.

Sauce

Nutrition Facts

Serving Size
14g

Calories

15
Calories From Fat
Amount Per Serving
% Daily Value*

Total Fat

0g
0%
Saturated Fat
0.0g
0%
Trans Fat
0.0g
 

Cholesterol

0mg
0%

Sodium

180mg
8%

Total Carbohydrates

3g
1%
Dietary Fiber
0g
0%
Sugars
2g
 

Protein

0g
0%

Vitamin A

 
2%

Vitamin C

 
2%

Calcium

 
0%

Iron

 
0%
*All percent daily value figures are based on a 2,000 calorie diet.
Nutritional information source: Arby's
Arby's Arby's Sauce

Allergens

Does Not Contain* egg fish gluten milk peanuts shellfish soy tree nuts wheatUnknown glutamates MSG mustard nitrates seeds sesame sulfites

Allergy Information: a Arby's Arby's Sauce does not contain egg, fish, gluten, milk, peanuts, shellfish, soy, tree nuts or wheat.*

* Please keep in mind that most fast food restaurants cannot guarantee that any product is free of allergens as they use shared equipment for prepping foods.
Arby's Arby's Sauce

Ingredients

Water, Corn Syrup, Tomato Paste, Distilled Vinegar, High Fructose Corn Syrup, Salt, Modified Corn Starch, Soybean Oil, Xanthan Gum, Garlic (dehydrated), Sodium Benzoate (preservative), Onion (dehydrated), Spice and Spice Extractives, Artificial Flavor, Extractives of Capsicum.




What is Arbys sauce made of?
I have more good news for you – Arby's Sauce is really easy to make. It's just a matter of stirring together a few ingredients and letting them simmer until they've become one entity. So what's in this stuff? It's ketchup, brown sugar, apple cider vinegar, a bit of tabasco, and some onion powder and garlic powder.
Is Arbys sauce the same as red ranch?
Not really, red ranch sauce is one of the sauces used in Arby's restaurants. They also have got various sauce types, like a barbeque sauce, for instance. So, speaking about the Red Ranch, which is a sweet tomato sauce with some special ingredients, you had better not name it Arby's as it might cause some confusion.
What is similar to Arbys sauce?
So, what is similar to Arby's sauce? Heinz 57 Steak Sauce with Lea & Perrins Worcestershire Sauce is perhaps the most similar product on the market. Although, you can also accurately make Arby's sauce at home with a few simple ingredients.
Can you buy Arbys sauce from Arbys?
Arby's – The more sauce, the better. Arby's Signature Sauces in bottles are here. Visit your local Arby's restaurant to purchase.
How do you make Arby's red ranch sauce?
Arby's Red Ranch Sauce
1/4 cup ketchup.
1 teaspoon water.
1/8 teaspoon onion powder.
1/8 teaspoon garlic powder.
1 teaspoon worcestershire sauce.
1/8 teaspoon salt.
1/2 teaspoon apple cider vinegar.
What is Arby's Bronco berry sauce made of?
Arby's Bronco Berry Sauce Ingredients
High Fructose Corn Syrup, Water, Bell Pepper, Distilled Vinegar, Modified Corn Starch, Jalapeno Pepper, Vegetable Juice Concentrate (color), Potassium Sorbate and Sodium Benzoate (preservatives), Onion (dehydrated), Salt, Spice, Xanthan Gum, Citric Acid, Acetic Acid.
Why is it called Horsey sauce?
In German, it's called "meerrettich" (sea radish) because it grows by the sea. Many believe the English mispronounced the German word "meer" and began calling it "mareradish." Eventually it became known as horseradish. The word "horse" (as applied in "horseradish") is believed to denote large size and coarseness.